At the ICMP, we hold regular masterclasses, clinics and workshops with some of the most inspirational and aspirational musicians, performers, artists and music entrepreneurs in the business. These fantastic opportunities to learn from those who have achieved success are not to be missed, and form an invaluable complement to your chosen course.
To see details of upcoming masterclasses and associated events click here, or see below for just a few of those who have visited us recently.
Chad Smith (Drums)
Chad Smith is the drummer for the Red Hot Chili Peppers. In addition to his work with the Chili Peppers, he is also drummer of the hard rock supergroup Chickenfoot and his own instrumental side project, Chad Smith's Bombastic Meatbats.
Sam Duckworth (Songwriting)
Sam Duckworth is a singer-songwriter, currently performing as Recreations, and formerly known as Get Cape. Wear Cape. Fly. Get Cape was signed to Atlantic Records in March 2006, after playing many gigs, both with punk rock band Silverskin and as Get Cape. As Get Cape, Duckworth has collaborated with Billy Bragg, Nitin Sawhney, Shlomo, Killa Kela, Baba Maal, Flea, Kate Nash, and many others.
Luke Patterson (Drums)
Luke Patterson is a drum alumnus of the ICMP, and now the drummer for the Grammy-winning band Clean Bandit. Having released their first album 'New Eyes' through Atlantic Records, they received massive success with their single 'Rather Be' featuring the vocals of Jess Glynne. The single catapulted the band to huge success, and the track won a Grammy for 'Best Dance Recording'.
Paul Turner and Rob Harris (Bass & Guitar)
Paul Turner and Rob Harris are long term members of funk band Jamiroquai, playing bass and guitar respectively. They are also accomplished session musicians both in the studio and onstage, having recorded and toured with artists such as George Michael, Robbie Williams, Kylie Minogue, Bryan Ferry and Elton John.
Thomas Lang (Drums)
Thomas Lang is an acclaimed Austrian drummer, multiinstrumentalist, composer and record producer. As a session musician, he has played for artists such as Robert Fripp, Glenn Hughes, Peter Gabriel, Asia, Tina Turner, Robbie Williams, Ronan Keating, Steve Hackett, 911, Boyzone, Falco, Kylie Minogue, and many more.
Divinity Roxx (Bass)
Band member and Assistant Musical Director for Beyoncé, Divinity Roxx has been touring and working with the superstar for over five years. She has appeared on countless television shows, including The Grammys, The Oprah Winfrey Show, Saturday Night Live, and Good Morning America,to name a few.
Guthrie Govan (Guitar)
Guthrie Govan is arguably the most exciting and significant new guitarist to emerge in the virtuosic rock/fusion guitar scene in many years. He is a brilliant artist who is at home in a variety of musical genres and styles, and has recorded and toured with acts ranging from melodic rock (Asia) to grime (Dizzee Rascal). He was recently seen onstage at the Hans Zimmer Revealed concerts, sharing guitar duties with Johnny Marr and incorporating instruments ranging from banjo to fretless electric guitar.
Snarky Puppy (Guitar/Bass/Drums/Songwriting)
The New York-based, Grammy award-winning quasi-collective Snarky Puppy has gone from the best-kept secret to one of the most respected names in instrumental music. Although still 'underground' in many respects, the band has earned high praise from critical stalwarts like the BBC, the Village Voice, the Guardian, and the Boston Herald, and has performed at some of the best venues and festivals in Asia, Europe, Australia, and North America.
Frank Turner (Songwriting)
Since the demise of Million Dead, the hardcore quartet he fronted, Frank Turner has been on a constant upward curve. His fourth album, England Keep My Bones (2011), sold more than 100,000 copies and entered the UK charts at Number 12. Its follow-up, Tape
Deck Heart, ushered in a new level of success. It entered the UK charts at Number 2 and the iTunes charts at Number 1 and has sold 200,000 copies so far.
Cathy Dennis (Songwriting)
An alumna of the ICMP, Cathy Dennis is a world-renowned performer and songwriter. She started her career writing her own music and has gone on to pen tracks for countless world famous artists. After hitting both the US and UK charts, first as a vocalist for house producer D Mob, and then with her own music, Cathy has written a multitude of Number 1 hits for the likes of Kylie Minogue ('I Just Can't Get You Out Of My Head'), Britney Spears ('Toxic') and Katy Perry ('I Kissed a Girl'). She is also the recipient of five Ivor Novello Awards and two Grammys.
Darcus Beese (Music Business)
Darcus Beese is CoPresident of one of the UK's most successful record labels, Island Records. His most famous signings, in a string of A&R successes, include Florence and the Machine, Mumford & Sons, The Sugababes, and Amy Winehouse, with whom Beese worked closely after bringing her to Island Records in 2002.
Korda Marshall (Music Business)
After starting his career at RCA Records in 1983, Korda Marshall became A&R Director of the label in 1988 and counted Ash, Garbage, Muse, The Blow Monkeys, The Wedding Present, Pop Will Eat Itself, Londonbeat and Take That among his signings. He became Managing Director of the company's Atlantic Records label, where he signed The Darkness and James Blunt, among others, before taking over at Warner Music in 2004 and overseeing the careers of Madonna, Green Day, and The Red Hot Chili Peppers, as well as signing artists including Gnarls Barkley, Foals, The Enemy, Pendulum and Seasick Steve.
Knights Before (Band)
Knights Before were recording and touring with Amy Winehouse at the pinnacle of her career and have an intimate understanding of the magic and construction behind her music. Members of the band have also worked with Lulu, Tom Jones, Corrine Bailey Rae, Tina Turner, Laura Mvula, Jamiroquai, Nigel Kennedy, Jessie J and Mark Ronson.
Gabor Dornyei and Laurence Cottle (Drums/Bass)
Visiting tutor Laurence Cottle is considered to be the UK's No1 Master of modern electric bass guitar and played live/recorded with a wide variety of artists, ranging from Al Jarreau to Black Sabbath. ICMP drum faculty member Gabor Dornyei is one of Europe's leading drum clinicians and has performed/recorded for Walt Disney, Drumeo, Drum Channel(LA) and a long list of artists.
Youth (Music Production)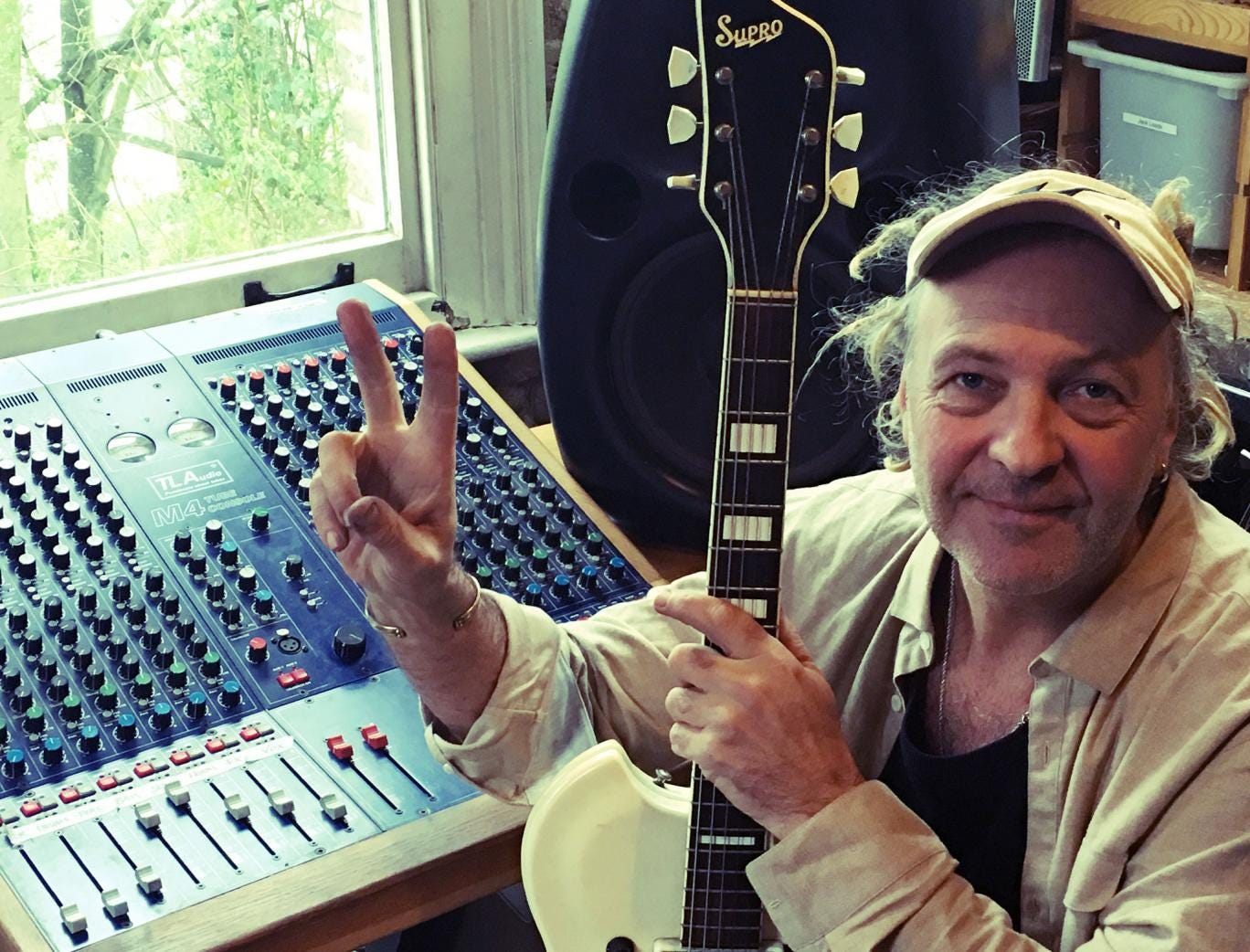 Youth's prolific production career spans three era's of music and encompasses a myriad of styles, genre's and artists including David Gilmore, Primal Scream, Guns N' Roses,The Verve and Paul McCartney.